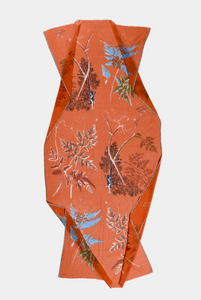 Extra-large handwoven stole. Thin weave, softly textured with delicate stripes achieved on the loom, very soft hand feel. Motif Danish Herbarium inspired by botanical illustrations, arranged freely on a solid, contrasting background. Stylish Jacquard border. Hand screen-print process, each color requiring an individual screen.
100% Cotton

90cm x 200cm
We love our [clothes] and really want YOU to love them too!

If for any reason you are not happy with your purchase, please contact the store within 5 days of receipt for a return authorization code.  Mail your item back to us for your refund or bring it back to the boutique.
Please note that all items must be unworn and in original condition.
Your purchase will be refunded upon receipt. Unfortunately, we cannot refund your shipping fees.